Introducing the Pinweel Live Resin Blends – a revolutionary device designed for those seeking a hassle-free and exceptional daily dose of cannabinoids. This disposable vape combines durability with convenience, offering a leak-free, fully-filled, and buttonless solution for enthusiasts who crave a straightforward yet potent experience. Compact yet powerful, this device delivers a premium blend of cannabinoids and terpenes, ensuring a smile-inducing and joyful encounter.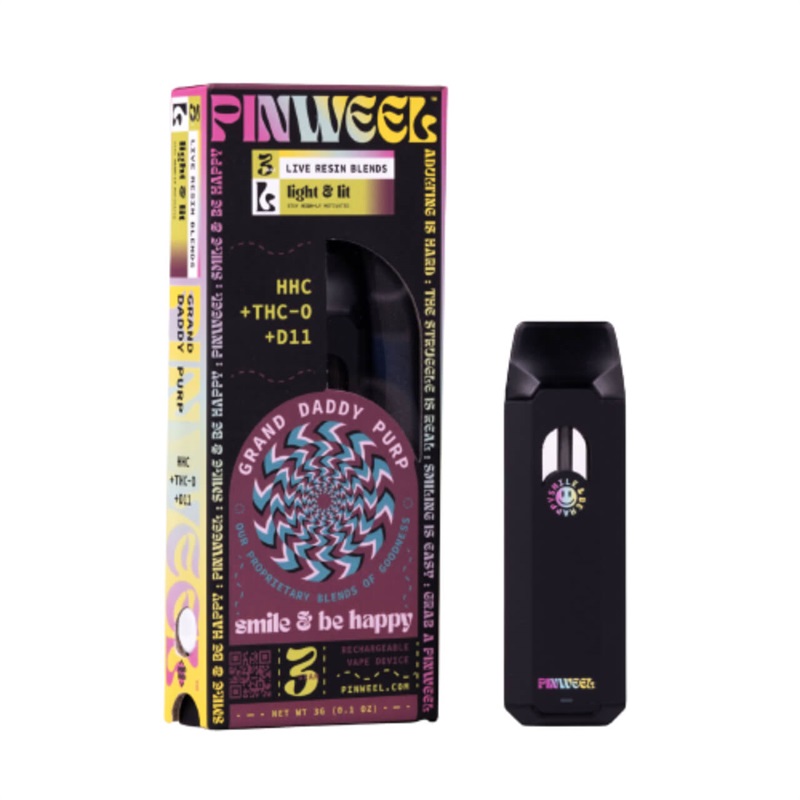 Understanding Pinweel Live Resin Blends Disposables
The Pinweel Live Resin Blends Disposable Vape stands out with its compact and portable design, made from lightweight yet durable polycarbonate materials for extended longevity.
Boasting a leak-free tank, a clog-free chimney, and a user-friendly design without any buttons or complicated instructions, it stands as one of the most accessible and convenient devices in the market. Impressively, it features an integrated rechargeable battery, an LED battery life indicator, a draw-activated firing mechanism, a ceramic coil, and a liquid viewing window. Each device houses 3 grams of live resin concentrate, with four distinct options featuring a proprietary blend of cannabinoids designed to induce mild euphoric effects.
Pinweel: Crafting Joyful Experiences
Pinweel, a leading cannabis products brand, specializes in crafting a variety of alternative products infused with hemp-derived cannabinoids. Operating from the vibrant state of California, the brand reflects the creative and free-spirited ethos of its native and transplant founders. Pinweel's commitment to fostering happiness is evident in its diverse product range, which includes disposable vapes, vape cartridges, and delectable gummies. As a sibling brand to industry hits like Charlie's Chalk Dust, Pachamama, and Pacha CBD, Pinweel benefits from the expertise of a renowned manufacturing company.
Elevate Your Experience with Pinweel Live Resin Blends Disposable Vape
If you're seeking a harmonious blend of cannabinoids that elevate your mental state, the Pinweel Live Resin Blends Disposable Vape awaits your exploration. Easy to use, exceptionally convenient, and delivering a euphoric experience like no other, these devices encapsulate perfection. From the delightful strains' taste to the buttonless design ensuring utmost convenience, every aspect of the Pinweel Live Resin Blends Disposable Vape is crafted to provide a flawless and enjoyable cannabinoid experience. Try it today and discover the symphony of joy it brings to your daily routine.
You may also like: torch nitro blend thc-a boosted cheap