Experience a world of flavours with the R and M Tornado 8000 Puffs Disposable Vape. With its impressive specifications and wide range of tantalizing flavours, this disposable vape is designed to provide a satisfying vaping experience wherever you go.
Long-lasting Puffs:
With over 8000 puffs, this hot sale disposable vape ensures you can enjoy extended vaping sessions without the need for frequent replacements. Each puff delivers a burst of flavour and dense vapour, making it perfect for both casual vapers and enthusiasts alike.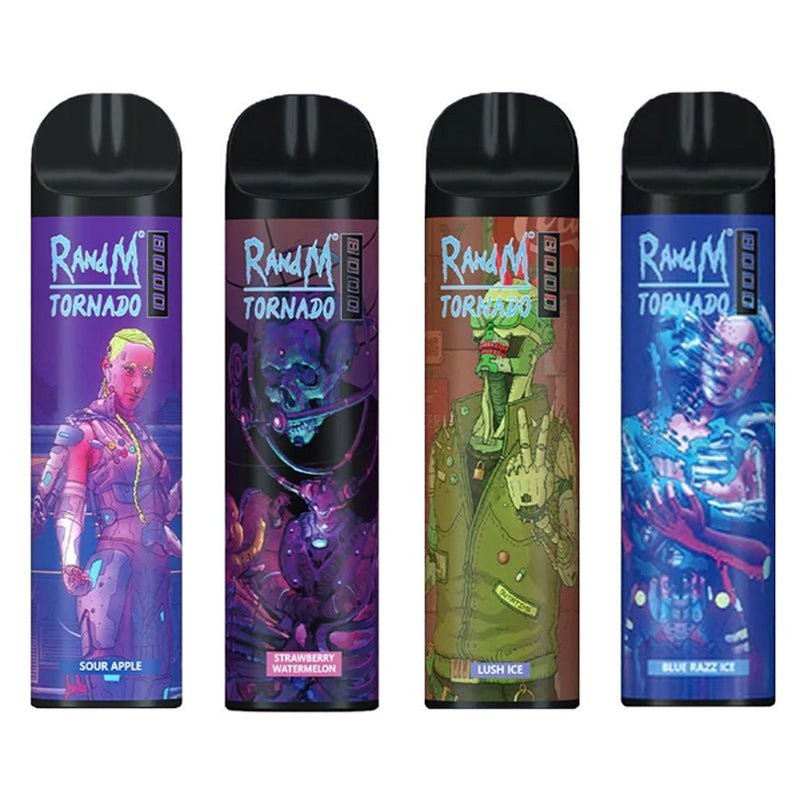 Powerful Battery:
Equipped with an 850mAh battery, the R and M Tornado Vape ensures a reliable and consistent performance throughout its lifespan. You can enjoy a seamless vaping experience without worrying about running out of power.
Pre-Filled E-Liquid:
The R and M Tornado Vape comes pre-filled with an assortment of delectable e-liquid flavours. Choose from a diverse range of options including Grape Orange, Pine Colada, Strawberry Lemonade, Cotton Pear, Blueberry Pomegranate, and more. There are over 18 flavours to satisfy your taste buds.
User-Friendly Design:
Featuring a draw-activated mechanism, this disposable vape is incredibly easy to use. Simply take a puff, and the device will automatically activate, providing a smooth and hassle-free vaping experience. The sleek and compact design makes it pocket-friendly and convenient for on-the-go vaping.
Unique Style:
The R and M Tornado Vape boasts a unique style design that sets it apart from the rest. Its slimline profile and eye-catching RGB light add a touch of sophistication to your vaping sessions.
Nicotine-Free:
For those who prefer a nicotine-free vaping experience, this disposable vape is an ideal choice. You can enjoy the flavours without the nicotine content, catering to your personal preferences.
We believe that R and M Tornado Vape 8000 Puff Disposable Vape will definitely make you fall in love. And for more information, you will find at our best vape shop.
Hope You Also Like:
r&m vape 9000
best mk bar vape