The IVG brand has always been known for its e-juice, with a wide range of flavours and pure taste. Recently, IVG's disposable e-cigarettes have been released and today we are introducing the IVG Bar Plus Disposable Vape, an updated version of the IVG Bar Disposable Vape.
Appearance
The IVG Bar Plus Disposable Vape has a cylindrical design and is simple and elegant, without a single button. The overall design is more rounded compared to the regular version and is very cute. Each flavor corresponds to a color and the colors are very bright. The mouthpiece is flat and ergonomically designed. Not only does it surprise you in terms of taste, it also greatly enhances the comfort of use.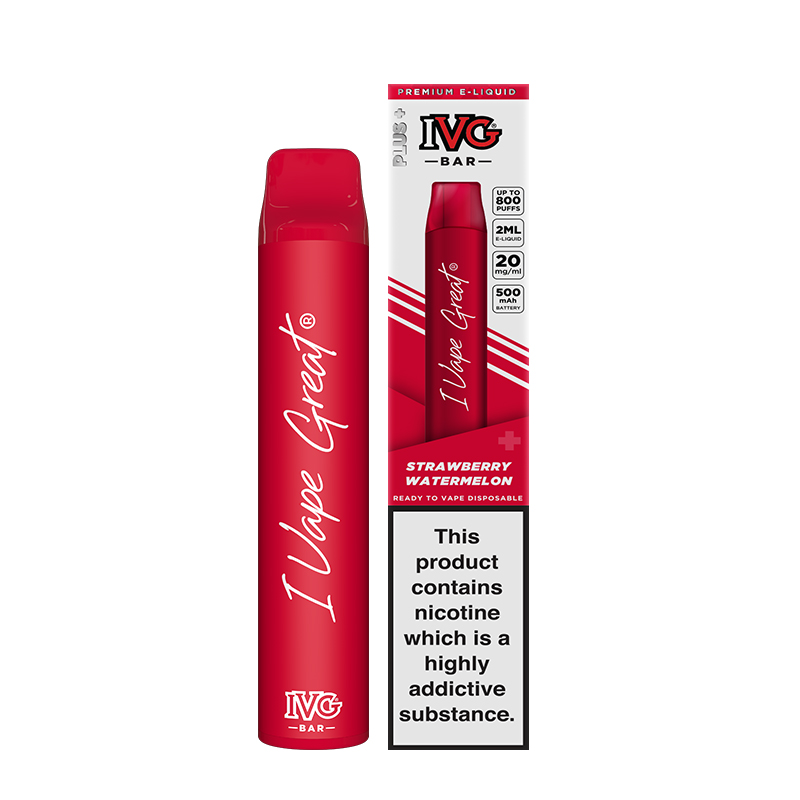 Flavors
Since IVG is a brand that previously specialized in vaping oils, you can be completely confident about the flavors of their disposable vape. There are currently 17 flavors available in the shop, namely Classic Menthol, Peach Rings, Fuji Apple Melon, Mango Lychee, Strawberry Watermelon, Blue Raspberry Ice, Pink Lemonade, Raspberry Lemonade, Passion Fruit, Cola Ice, Berry Lemonade lce, Ruby Guava Ice, Energy Ice, Rainbow, Aloe Grape Ice and Vanilla Custard Tobacco. Each with 20mg of nicotine. flavors rich and pure, you are sure to find something to your liking in the selection. If it is difficult to choose a flavor, we recommend getting a few at once.
Performance
The biggest difference between this and the previous version is the increased number of puffs available. Even though this e-cigarette is compact, it is powered by a 500mAh internal battery and can take up to 800 puffs, making it much more durable. It is very easy and convenient to activate the device by simply vaping directly. After the battery runs out you can just throw it in the trash, no need to do a series of operations such as recharging/filling/changing coils, so even novices can get started quickly. It's a great value for money product and you can buy it on uk vapesourcing!
QUICK LINK: https://vapesourcing.uk/ivg-bar-plus-disposable.html