Welcome to the world of vaping, where innovation meets satisfaction. Today, we proudly introduce the Sfog Big Bang Nicotine Free Vape, a true game-changer in the vaping industry. This article will delve into the remarkable features and benefits of this revolutionary product, designed to deliver an unparalleled vaping experience for enthusiasts worldwide.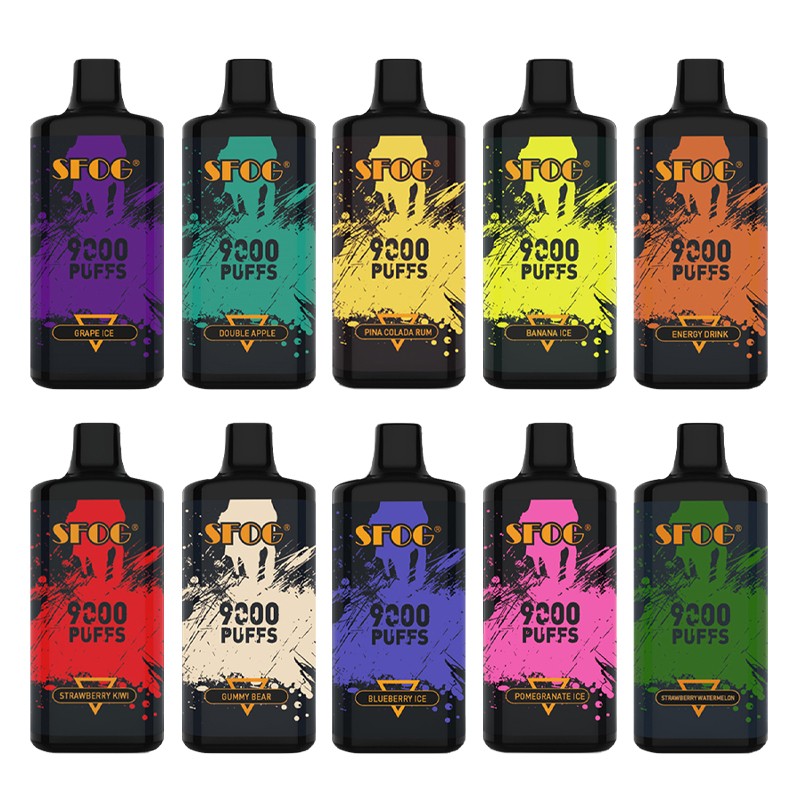 18mL Pre-Filled E-Liquid for Endless Enjoyment
Experience the remarkable Sfog Big Bang with its remarkable pre-filled e-liquid capacity of 18mL, guaranteeing endless enjoyment of your favorite flavors throughout your vaping sessions. Advanced technology ensures that each puff remains just as flavorful and satisfying as the previous one, preserving the e-liquid's taste and quality at its finest.
0%(0mg) Nicotine – A Health-Conscious Choice
For individuals in search of a vaping experience without nicotine, the Sfog Big Bang presents the perfect solution. With its 0% nicotine content, it offers the pleasure of vaping without the addictive properties of nicotine. This option caters to users who are gradually lowering their nicotine intake or those who embrace a nicotine-free lifestyle.
Rechargeable and Long-Lasting
Equipped with a powerful 950mAh rechargeable battery, the Sfog Big Bang ensures that you can enjoy approximately 9000 puffs on a single charge. Say goodbye to frequent charging and hello to uninterrupted vaping pleasure. The long-lasting battery life makes it a reliable companion for both casual vapers and enthusiasts on the go.
Exceptional 1.0ohm Mesh Coil Technology
The Sfog Big Bang features a cutting-edge 1.0ohm mesh coil, delivering an incredibly smooth and consistent vapor production. The mesh coil design maximizes the heating surface area, resulting in richer and more flavorful clouds. This advanced technology guarantees a satisfying vaping experience with every draw.
Air Adjustment Function for Customized Airflow
Customization is key to the perfect vaping experience, and the Big Bang 0 nicotine vape understands that. With its air adjustment function, you have full control over the airflow, allowing you to tailor the draw resistance according to your preferences. Whether you enjoy a tight, restricted draw or a looser one, this feature ensures your vaping experience is exactly how you want it to be.
User-Friendly Draw-Activated Mechanism
The Sfog Big Bang operates on a draw-activated mechanism, eliminating the need for any buttons. Simply inhale, and the device will automatically start producing flavorful vapors. This user-friendly feature makes it an excellent choice for beginners and a convenient option for seasoned vapers.
Premium Build – Aluminium & PCTG Material
Crafted with high-quality materials, the Sfog Big Bang exudes durability and style. The combination of aluminium and PCTG (polycarbonate/terephthalate glycol) ensures a robust construction, safeguarding the device against minor impacts while maintaining an elegant appearance.
Conclusion
In conclusion, the Big Bang Nicotine Free Vape is an exceptional product that redefines the vaping experience. From its generous e-liquid capacity and nicotine-free content to its rechargeable battery and customizable airflow, every aspect is meticulously designed to provide the utmost satisfaction to vapers of all levels.
With the Sfog Big Bang, you no longer need to compromise on quality or settle for ordinary vaping devices. Elevate your vaping journey with this remarkable product that combines innovation
You may also like: elf bar nicotine free