Aroma King 10000 disposable is the world's first disposable device that supports Direct To Lung Vaping Method (DTL) while other disposable vapes support MTL vaping. This innovative disposable vape is designed to provide an exceptional vaping experience with its advanced features and high-quality performance.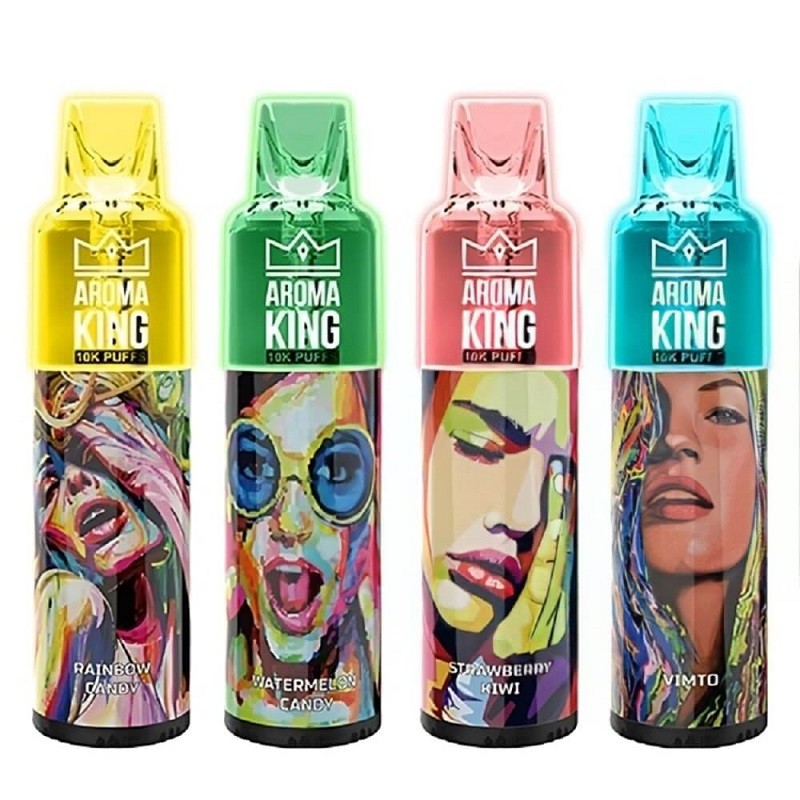 The Aroma King 10000 comes pre-filled e-liquid with 2% nicotine salt, offering a smooth and satisfying vaping experience. Equipped with a rechargeable 1000mAh built-in battery, the Aroma King 10000 guarantees that you can vape until the last drop of e-juice in the tank. The Type-C port at the bottom of the device ensures convenient recharging, making it easy to keep your device powered up for continuous use. With its 10000 puff capacity, this disposable device ensures long-lasting usage, allowing you to enjoy your favorite flavors for an extended period.
The Aroma King 10000 features a mesh coil with a resistance of 0.5 Ohm Sub Ohm, delivering more smoke and better taste. This results in a purer and smoother flavor experience, setting it apart from other disposable electronic cigarettes on the market. The 6-color LED light adds a touch of visual appeal and enhances your overall vaping experience.
One of the standout features of the Aroma King 10000 is its airflow control, which allows you to customize the airflow to suit your preferences. Whether you prefer a tighter draw or a more airy one, this disposable vape ensures you find the perfect spot for an enjoyable vaping experience.
With its sleek and compact design, the Aroma King 10000 is incredibly portable, making it ideal for on-the-go vaping. Slip it into your pocket or bag without any hassle and enjoy vaping wherever you are. Its slim profile and fashionable design make it an attractive accessory that complements your style.
Choose from the wide range of 20 flavors available for the Aroma King 10000, ensuring there's something for everyone's taste preferences. From fruity to dessert-inspired flavors, you can explore a variety of options and discover your personal favorite.
In summary, the Aroma King 10000 is a groundbreaking disposable device that combines the convenience of a disposable vape with the performance and features of a rechargeable device. It's sure to impress even the most discerning vapers. Experience the future of vaping with the Aroma King 10000 and enjoy a truly satisfying and flavorful vape every time.
You may also like:
best seller r and m tornado 9000