In the pod kit field, Uwell has always been the best supplier. Uwell is also the most popular brand after Juul. Uwell has a variety of pod kits, including Uwell Caliburn, Uwell Caliburn G, Uwell Caliburn KOKO Prime, etc. These pod kits have a large number of loyal fans all over the world, and they are also one of the most popular products. Most of Uwell's products are outstanding in portability, ease of use and flavor. They are very small and compact, but also have powerful functions, and can provide unparalleled flavor. Today we are going to focus on another excellent pod kit from Uwell, which is: Uwell Tripod Pod System Kit With 1000mAh Charging Case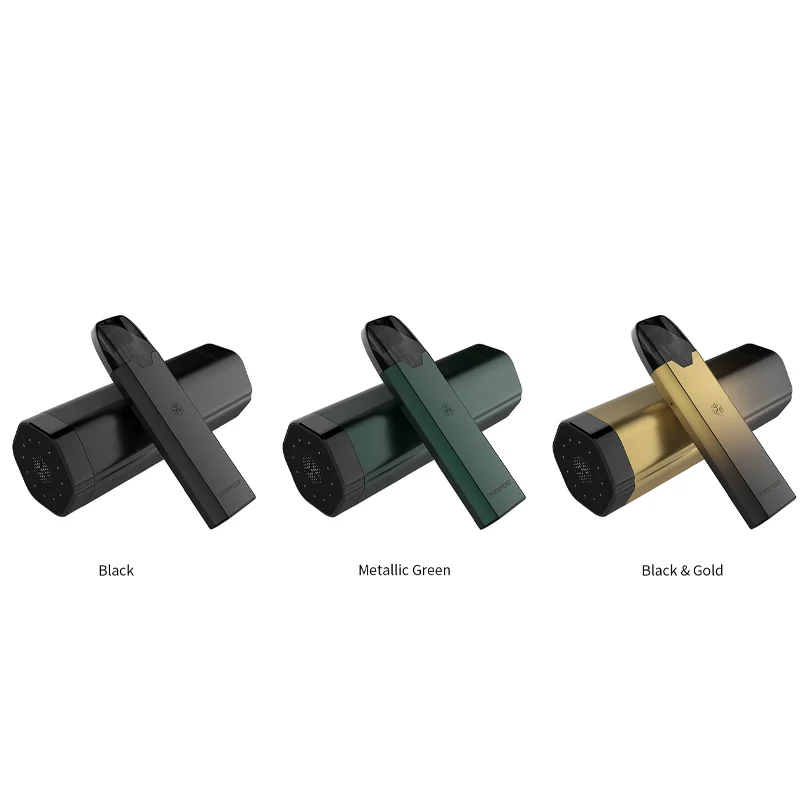 In terms of appearance, Uwell Tripod is very compact, its overall size is only 21.5mm x 10.4mm x 78mm, and the weight is only 67.4g. Uwell Tripod is made of high-quality aluminum material, which is very lightweight. You can hold it comfortably in your hand, or you can carry her in your pocket. Uwell Tripod has a variety of color options, including Black, Metallic Green, Black & Gold.
Uwell Tripod is powered by a built-in 370mAh battery with a maximum output power of 11W. Although its battery capacity is small, it has a 1000mAh charging case. This also means that its total battery capacity is 1300mAh, and the large battery capacity can provide you with 3 days of vaping needs. And the charging box is very small and smart, you can put Uwell Tripod in the charging box to automatically charge. You can also quickly charge it with 1.5A through the type-c port on the side of the charging box.
Uwell Tripod has a juice capacity of 2ml, And uses side filling, which is very simple and can effectively prevent leakage. Uwell Tripod also has a variety of additional protection functions, including: Short-circuit Protection, Over-time Protection and Low Power Indication.
The main advantage of Uwell Tripod is that it is very small and has great flavor. It is used in conjunction with the smart battery box to make it have a longer battery life. Its output power is 11W, but it has a battery capacity of 1300mAh. You can use it for 3 days without charging. And when the battery case is charging, you can still use it. This also means that it can provide you with an uninterrupted vaping experience. Although Uwell Tripod only has a juice capacity of 2ml, it is enough for your daily vaping needs. You can also fill it quickly by opening the silicone plug on the side, which is very convenient. Therefore, compared with most pod kits on the market, Uwell Tripod is more suitable for beginners and people who like to travel.
Do you like Uwell Tripod like this? Come and buy at "uk online vape shop".