Vandy Vape seems to be in a design bottleneck, I feel that the new Jackaroo 18650 Pod Mod Kit is not particularly different from the previous one in terms of styling, it has changed and seems to remain unchanged. Let's take a look and see if it's worth trying.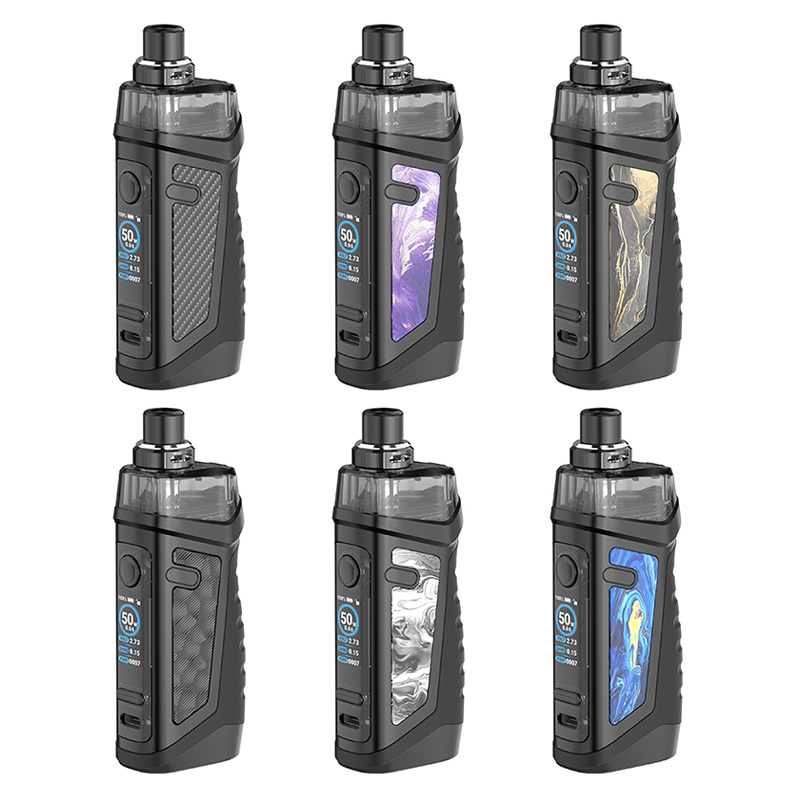 What sets the Jackaroo 18650 Pod Mod Kit apart from the competition is its tri-proof design. This kit is built to withstand the elements with an IP67 waterproof rating, ensuring that even the rainiest of days won't stop you from enjoying your favorite e-liquids. Dustproof and shockproof capabilities make it a reliable companion for your on-the-go lifestyle. No matter where you are, the Jackaroo 18650 Pod Kit is ready to perform.
The Jackaroo 18650 Pod Kit is powered by a single 18650 battery (not included), providing you with the flexibility to choose your preferred battery for long-lasting vaping sessions. Say goodbye to constant recharging, as this device comes with a convenient Type-C charging port with a 1A charging current, ensuring rapid and hassle-free recharging.
The double-sided airflow inlet system incorporated into this kit allows for precise control of your vaping experience. Adjusting the airflow to your liking is a breeze, ensuring that you can find the perfect setting for your preferred vaping style. Plus, the top airflow intake design minimizes the risk of leakage, so you can enjoy your e-liquids without any messy mishaps.
Customizability is the name of the game with the Jackaroo 18650 Pod Kit. With a wattage range of 5-70W, you have the power to tailor your vaping experience to your exact specifications. Whether you prefer a mild and smooth draw or a powerful and intense hit, this device has you covered.
The pod of the Jackaroo 18650 vape boasts a generous 4.7ml capacity, ensuring that you won't run out of your favorite e-liquids too quickly. Additionally, it is compatible with VVC Coils, offering a wide range of options to suit your vaping preferences. Say hello to rich flavor profiles and dense vapor clouds.
Not only is the Jackaroo 18650 a technical marvel, but it also sports a sleek and ergonomic gun grip profile. This design ensures a comfortable and secure grip, even during extended vaping sessions. It's the perfect fusion of form and function.
Conclusion:
In the world of vaping, the Jackaroo 18650 Pod Kit stands out as a true champion. Its tri-proof design, versatile wattage options, and ergonomic design make it a top-ranking choice for vapers of all levels. Elevate your vaping experience with this exceptional device, and unlock a world of flavor and vapor like never before. Don't miss out on the opportunity to enjoy vaping at its finest – get your Jackaroo 18650 Pod Kit at best vape shops online today!