Have you heard of or used VOOPOO products? What do you think of their products? Today, let's take a look at one of voopoo's most popular products: VOOPOO Drag X Pod Mod Kit
First, let's take a look at the basic parameters of VOOPOO Drag X:
Size: 95mm32.5mm28mm
Battery Capacity: Single 18650 (Excluding battery)
Material: Alloy+Leather(Mod), PCTG(Pod)
Output Power: 5-80W
Output Voltage: 3.2~4.2V
Resistance: 0.1~3.0ohm
Capacity: 4.5ml
Coils:
0.15ohm PnP-VM6 Coil(DL, 60~80W);
0.3ohm PnP-VM1 Coil(DL, 32~40W)
Charging Port: Type-C
Protections: Overtime/Short-circuit/Overcharge/Max Power/Output Over-current/Over Discharge/Over-temperature/Battery Reverse Protection
Colors: Classics, Carbon Fiber, Retro, Mashup, Chestnut, Marsala, Galaxy Blue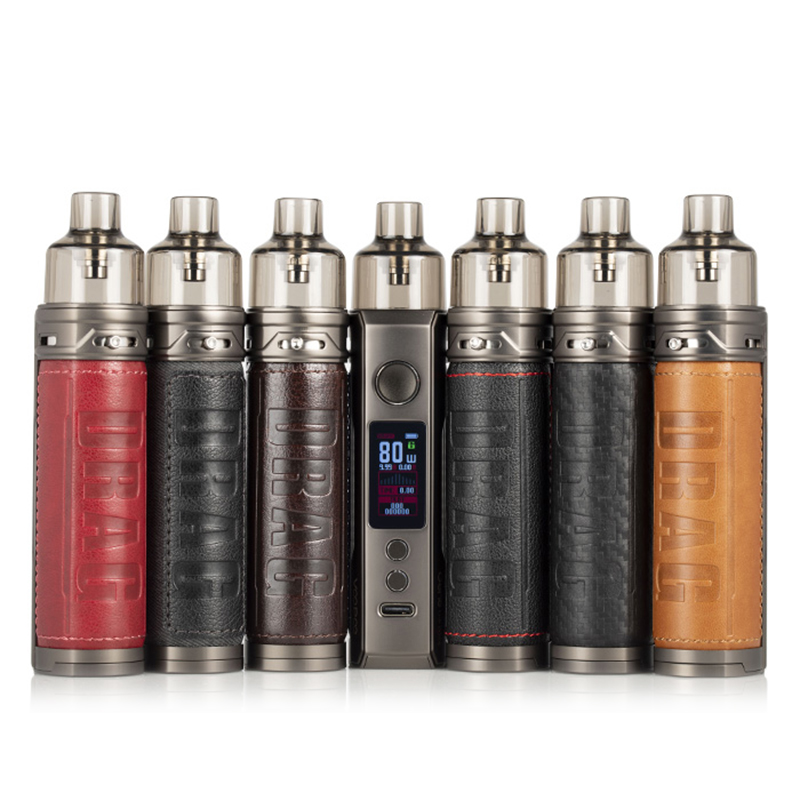 VOOPOO Drag X is a compact and powerful Pod Mod Kit. Although its overall size is only 95 mm * 32.5 mm * 28 mm, it can accommodate a high-rate 18650 battery and can support a maximum output power of up to 80W. And it is equipped with the most advanced GENE.TT chip, which can achieve 0.001s Extreme Ignition. It is worth noting that the battery of VOOPOO Drag X is removable, which means you can change the battery at any time without waiting for charging. You can also use the type-c port to quickly charge it.
VOOPOO Drag X is made of materials such as zinc alloy and leather. Zinc alloy is very light and strong, while leather has a good touch. Therefore, you can comfortably hold the VOOPOO Drag X in your hand or carry it in your pocket.
The juice capacity of VOOPOO Drag X is 4.5ml, and the compatible coil resistance is 0.1-3.0ohm, which means it can be used with all plug-and-play coils. And its innovative infinite airflow system can meet your different vaping needs and bring you the best vape experience.
Get it now: https://vapesourcing.uk/voopoo-drag-x-kit.html
Guess you also like:
voopoo drag x plus 100w