You're no stranger to IVG brand e-juice, but what do you know about the IVG Bar Disposable Vape Kit? Today, let's take a closer look at this hot disposable vape.
Who's IVG?
One of the world's leading vape brands— IVG, known as 'I Vape Great', is available in over 100 countries across 6 continents. They launched their flagship product in the UK in 2014 and since then, IVG's reach has been international, with millions of customers worldwide. diverse flavors have made IVG a truly iconic brand in the e-cigarette category.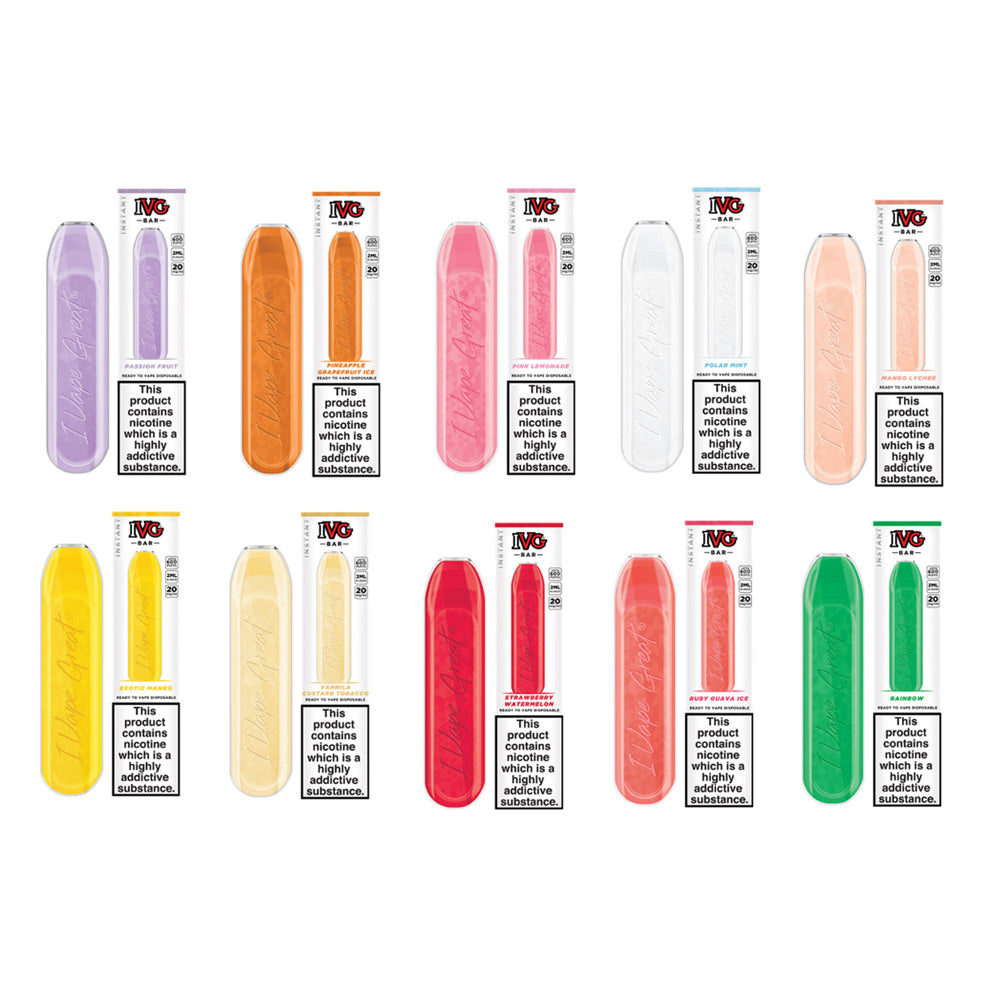 What does the device look like?
The disposable vape has an all-in-one design with not a single button on the entire body and is very smooth. It weighs very little, not even an egg. It is also small enough to fit in your hand, pocket or bag and takes up no space at all. The colors used are very bright and summery. Each flavor will correspond to a different color.
How are the flavors?
Since the IVG brand is known for its vape oils, you don't have to worry at all about the flavors of the IVG Bar Disposable Vape. This time, not only does it include ivg's usual hot vape flavors, but also some new ones. There are a total of 22 flavors currently available in the shop, which are
Rainbow, Ruby Guava Ice, Mango Lychee, Pink Lemonade, Strawberry Raspberry Pink Apple, Fuji Apple Melon, Blue Raspberry Iced, Butter Cookie, Berry Lemonade lce, Classic Menthol, Exotic Mango, Polar Mint, Raspberry Lemonade, Energy Ice, Passion Fruit, Cola Ice, Pineapple Grapefruit lce, Strawberry Watermelon, Raspberry Orange Mix, Aloe Grape Ice, Peach Rings, Vanilla Custard Tobacco. Each flavor contains 20mg of nicotine salt. Their IVG salt is an award-winning theme that has won the hearts of almost all mouth-to-lung vapers and their high VG e-liquid is also award-winning. these super juice disposable vapes from IVG simply steal the show. The secret to their success is IVG's salt content, which provides the most satisfying mouth-to-lung vaping and prevents the harsh vaping sometimes found in standard e-liquids.
How does the IVG BAR perform?
Powered by a 500mAh battery, it is pre-filled with 2ml of vape oil and can provide up to 600 puffs. With the draw-activated system, it is so easy and quick to activate with just a single puff that anyone with or without e-cigarette vaping experience can quickly learn how to use it. The IVG Bar Disposable can be found at uk vapesourcing!
QUICK LINK: https://vapesourcing.uk/ivg-bar-disposable-vape-kit.html