The vaping industry is continuously evolving, introducing new innovations and products regularly. The R and M Tornado Box represents one such innovation, a remarkable vaping device that has captured the attention of vape enthusiasts worldwide. With its impressive array of features and functionalities, this product stands out from the competition….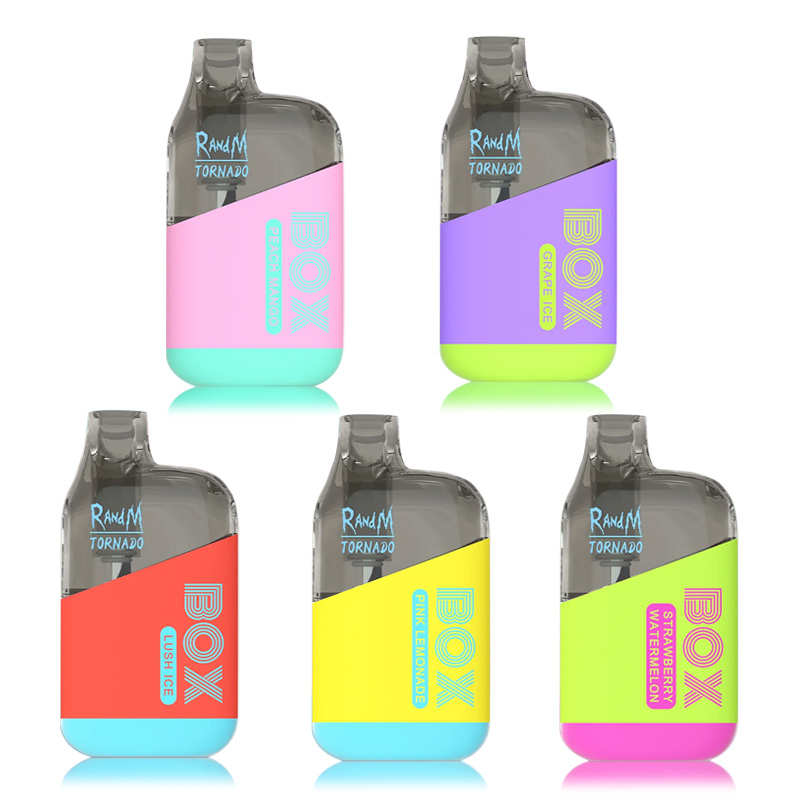 Key Features of R and M Tornado Box
The R and M Tornado Box comes pre-filled with 20ml of vape juice, ensuring long-lasting vaping sessions without the need for frequent refills. This convenience factor makes it a preferred choice for those who enjoy uninterrupted vaping experiences.
Equipped with an 850mAh internal battery, the R and M Tornado Box offers an extended battery life, allowing users to vape for longer periods between charges. The rechargeable feature makes it environmentally friendly and cost-effective.
With a Type-C cable included in the package, charging the R and M Tornado Box becomes quick and hassle-free. The Type-C technology enables faster charging times, ensuring minimal downtime for your vaping pleasure.
For those who prefer a strong nicotine hit, the R and M Tornado Box delivers 5% (50mg) Nic Salt, providing a satisfying vaping experience. The Nic Salt formulation ensures a smooth throat hit and enhanced flavor delivery.
The R and M Tornado Box vape boasts an impressive puff count of approximately 10000, making it an ideal choice for vapers who want a long-lasting device without compromising on performance.
The inclusion of a mesh coil in the R and M Tornado Box enhances the overall vaping experience. Mesh coils offer better heat distribution and a larger surface area, resulting in richer flavor and dense vapor production.
The device is draw-activated, meaning there are no buttons to press. This auto-sensing feature makes it user-friendly and convenient for beginners and experienced vapers alike.
Customize your vaping experience with the R and M Tornado Box's adjustable airflow. Whether you prefer a tight draw or a more open airflow, this device allows you to tailor your vape to your liking.
Why R and M Tornado Box 10000 Stands Out?
The R and M Tornado Box has managed to set itself apart from the competition due to its combination of innovative features and user-friendly design. Its larger e-liquid capacity, impressive battery life, and powerful performance make it a standout device in the current market.
Conclusion
In conclusion, the R and M Tornado Box is undoubtedly a top contender for the best vape device of 2023. With its remarkable features, outstanding performance, and user-friendly design, it caters to both beginners and seasoned vapers alike. If you're on the lookout for a reliable and high-performance vaping device, the RandM Tornado Box should be at the top of your list.