Maybe some people don't know much about the Wotofo brand, because it's not as well-known as smok, voopoo, GeekVape and other brands. Although Wotofo is not well-known, it also has some amazing products, such as the Wotofo Manik Mini kit.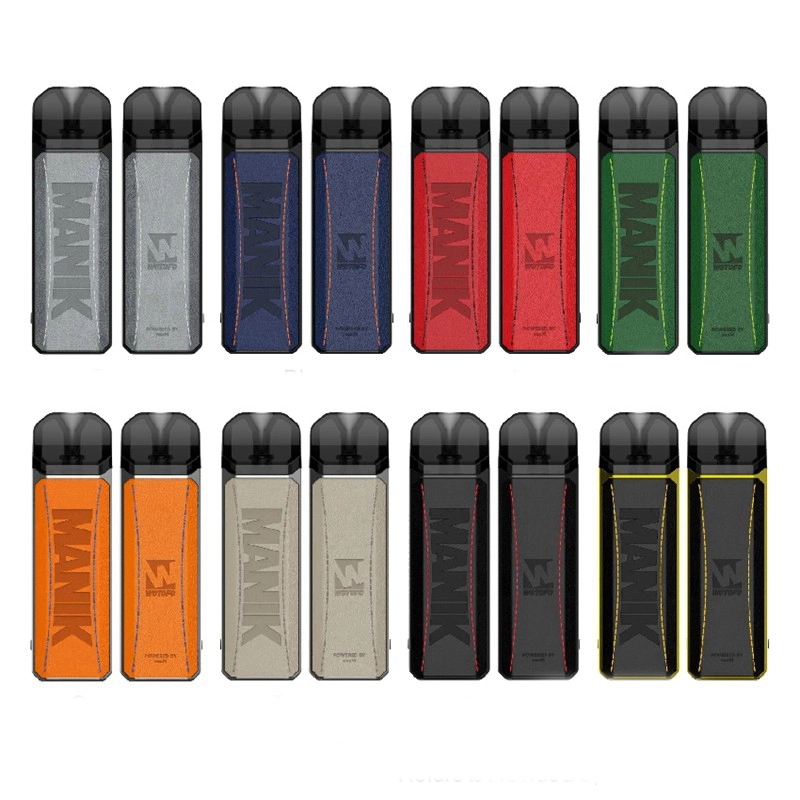 From the appearance, the Wotofo Manik Mini is a very compact Pod Kit, its overall size is only 92mm high x 28mm wide x 16mm thickness, and its weight is only 64g. In addition, it is made of high-quality zinc alloy and leather materials. Zinc alloy is lightweight and durable, while leather has a good touch. Therefore, you hold the Wotofo Manik Mini very comfortably in your hand, and you can also carry it in your wallet or pocket. There is also a small round ignition button and a 0.69-inch OLED display on the side of its body. Wotofo Manik Mini also has 8 colors to choose from, including: Black, Gray, Blue, Red, Green, Orange, Beige, Gold.
In terms of performance, the Wotofo Manik Mini has a built-in 1000mAh battery, with a minimum output power of 1W and a maximum output power of 30W. Large battery capacity means that it can last longer. And you can quickly charge it with a current of 5V/1.2A through the USB interface. It can be fully charged within 1 hour at most.
The juice capacity of Wotofo Manik Mini is 3ml, and it uses side filling, which is very convenient. Wotofo Manik Mini compatible coils include M11 parallel coils and M12 nexMESH coils. The resistance of M11 parallel coils is 0.6Ω, and the resistance of M12 nexMESH coils is 0.6Ω. It is worth noting that the coil of the Wotofo Manik Mini cannot be replaced. Its coil is built into the pod.
Wotofo Manik Mini's large battery capacity and juice capacity can last a whole day of vape needs, and it can provide you with the best flavor.
Wotofo Manik Mini Features
Built-in 1000mAh Battery
0.69″ OLED Display
30W Maximum Output Power
3ml Refillable Pods With Built-In Coil
Parallel Coil & nexMESH Coil
Safe Guarded By NexCHIP Technology
MTL-Specific Mouthpiece Design
Premium Leather+Zinc-Alloy Chassis Construction
Auto-Draw Style Pod Vaping
Water-proof Pod Connection
Click "vape online uk" now to see more detailed information about the Wotofo Manik Mini.