The aroma king dark knight disposable has a very slender and compact body, you can put it in any interlayer of your bag, and it is very convenient to carry and pocket-friendly. Its shape is vivid, and 12 different dark knight patterns are drawn on the shell, representing 12 carefully developed unique flavours, making it cool in your hand and unforgettable in your mouth.
For you to have a better vape experience, this disposable vape has a built-in 650mAh battery. When you go out, such a design is easy to carry and has a long battery life. When the battery runs out, you can simply plug in the charging plug to quickly charge it and let it continue to serve you.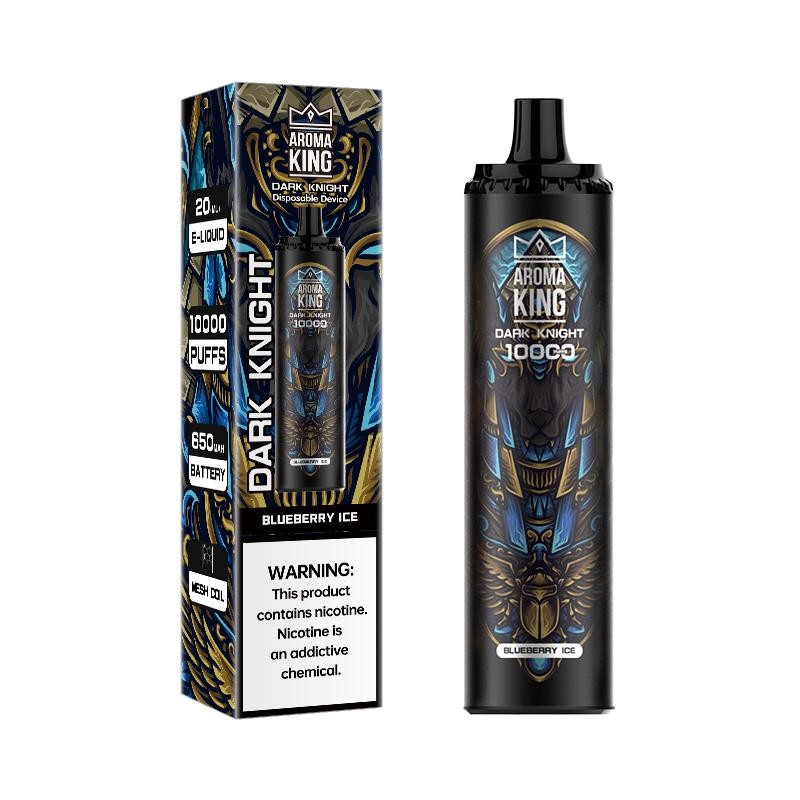 The Dark Knight Disposable not only has advantages in appearance and battery life but also in terms of capacity. It is pre-installed with a 20ml large-capacity e-juice, which can support you to use 10,000 puffs. The super large capacity gives you the ultimate satisfaction.
In addition, in order to improve its flavour performance and create ideal smoke, it adopts a unique mesh coil design and has an adjustable airflow system. The slender mouthpiece allows you to fully immerse yourself in the fun of vaping with a single inhalation. At the same time, its e-liquid has a nicotine concentration of 0ml, allowing you to protect your health while enjoying the fun of vaping. With super large capacity, long battery life, stunning appearance, and ultra-low price, the aroma king dark knight disposable vape is really a masterpiece.
We have prepared more categories of high-quality products for you on our vape online uk, looking forward to your selection and trial.
We would also like to recommend for you: