SMOK Nord series has many excellent products, among which SMOK Nord 4 is the latest product of SMOK Nord series. Have you tried SMOK Nord 4?
SMOK Nord 4 continues the amazing appearance of the SMOK Nord series, but SMOK Nord 4 has a larger size and weight than the previous version. At the same time, SMOK Nord 4 also has more powerful performance than the previous version.
Let's take a look at the latest SMOK Nord 4 together.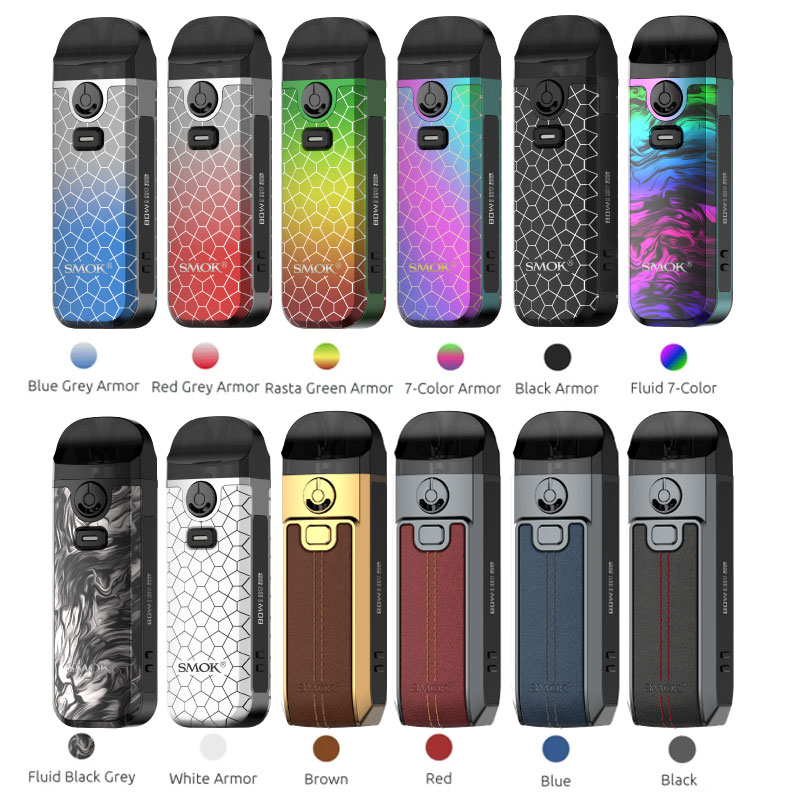 SMOK Nord 4 is a compact pod system kit, its overall size is 104.9mm x 33.7mm x 24.4mm. SMOK Nord 4 is made of high-quality zinc alloy material, which is very durable. There is an intuitive ignition button and two adjustment buttons on the side of its body, which is very natural to use. It also has an OLED display, which can clearly display the current power, power, output voltage and other data.
Like most pod system kits, SMOK Nord 4 consists of two parts: battery and pod. The pod and the battery are connected by a magnet, which is very simple to use. SMOK Nord 4 has a built-in 2000mAh battery, the minimum output power is 5W, and the maximum output power is 80W. The large battery capacity can last all day of vape needs. You can also freely adjust its output power according to your needs. It can also be charged at 1.4A through the USB Type-C port, which can be charged as quickly as possible.
SMOK Nord 4 has a juice capacity of 4.5ml. The large juice capacity means that it can be used on travel because it can last all day. SMOK Nord 4 can be used with RPM coil and RPM 2 coil. It is sold with 0.16ohm RPM 2 grid coil and 0.4ohm RPM grid coil. SMOK Nord 4 is very simple to install the coil by pressing. SMOK Nord 4 has powerful performance and flavor, and is a vape device worth trying.
SMOK Nord 4 also has a variety of color options, including: Blue Grey Armor, Red Grey Armor, Rasta Green Armor, 7-Color Armor, Black Armor, White Armor, Fluid 7-Color, Fluid Black Grey, Leather Series.
You can visit "uk online vape shop" to see more smok nord products.