Smok has many popular products, including SMOK RPM40. It is a very classic pod mod kit. Have you tried it?
SMOK RPM40 has a built-in 1500mAh rechargeable battery with a maximum output power of 40W and a maximum juice capacity of 4.5ml, compatible with RPM and Nord series coils. Overall, SMOK RPM40 is a compact and very easy to use Pod kit.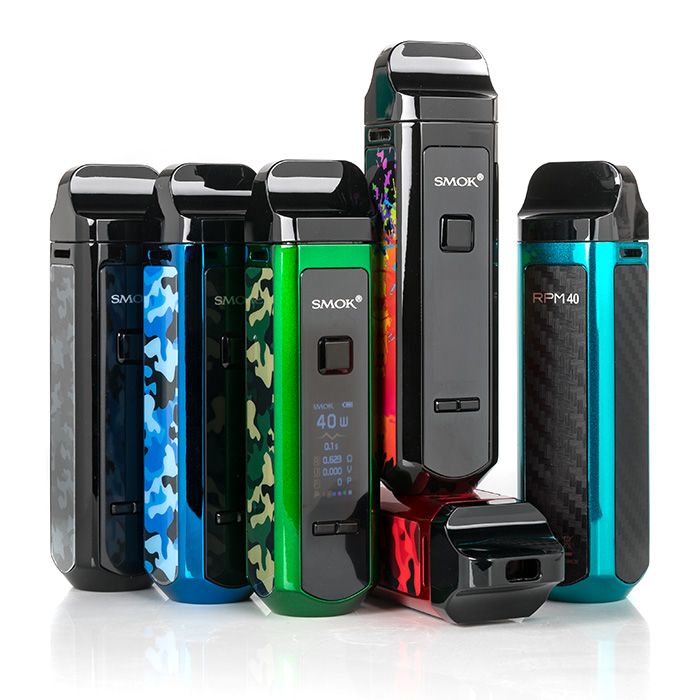 In terms of appearance, SMOK RPM40 is very compact, its overall size is only 99mm x 25mm x 25mm, and adopts an ergonomic design, it is very comfortable to hold in the hand. In addition, it is made of zinc alloy material, which is very light and very strong. You can put it in your pocket and carry it with you when you are out for work and travel. On the side of its body, there is an intuitive ignition button and two adjustment buttons, which is very simple to use. There is also a 0.96 inch TFT color display below the ignition button, which can clearly display all Vaping data.
In terms of performance, SMOK RPM40 is equipped with an advanced IQ-R chipset and a built-in 1500mAh battery. The minimum output power is 1W and the maximum output power is 40W. The large battery capacity of SMOK RPM40 means that it can last longer. Generally speaking, it can meet your vaping needs for 2 days. In addition, you can also quickly charge it through the USB port.
The juice capacity of SMOK RPM40 is 4.5ml, and other pods can be refilled. When you are filling juice, just open the silicone plug on the side to easily fill it. It is compatible with smok RPM and nord series coils, and can produce a lot of clouds and excellent flavor. In addition, it uses a pressing method to install the coil, which is very simple and convenient.
SPECIFICATION
Size: 25 * 25 * 99mm
Battery: 1500mAh built-in battery
Output Power: 1W-40W
Input voltage: 3.3V-4.2V
Coil Resistance: 0.2ohm-2.50ohm
Firing Time: 0.001S
Screen: 0.96 inch TFT screen
Firing speed: 0.08s
Output Mode: Watt
Quick link: https://vapesourcing.uk/smok-rpm40-kit.html