Disposable vapes are more and more demanded by people, not only because of their convenient use but also because of the wonderful flavours they can deliver. And a variety of different e-liquid flavours. What ordinary electronic cigarettes cannot do, disposable cigarettes can do their best for you. So what I want to recommend to you today is aroma king dark knight.
I think that when people use disposables, the most they complain about is that their lifespan is too short, so they cannot enjoy a longer vaping time, and can only obtain short-term happiness. Aroma King Dark Knight disposable vape sale provides you with up to 10,000 puffs. I think this is definitely a treasure for vapers who need to vape for a long time.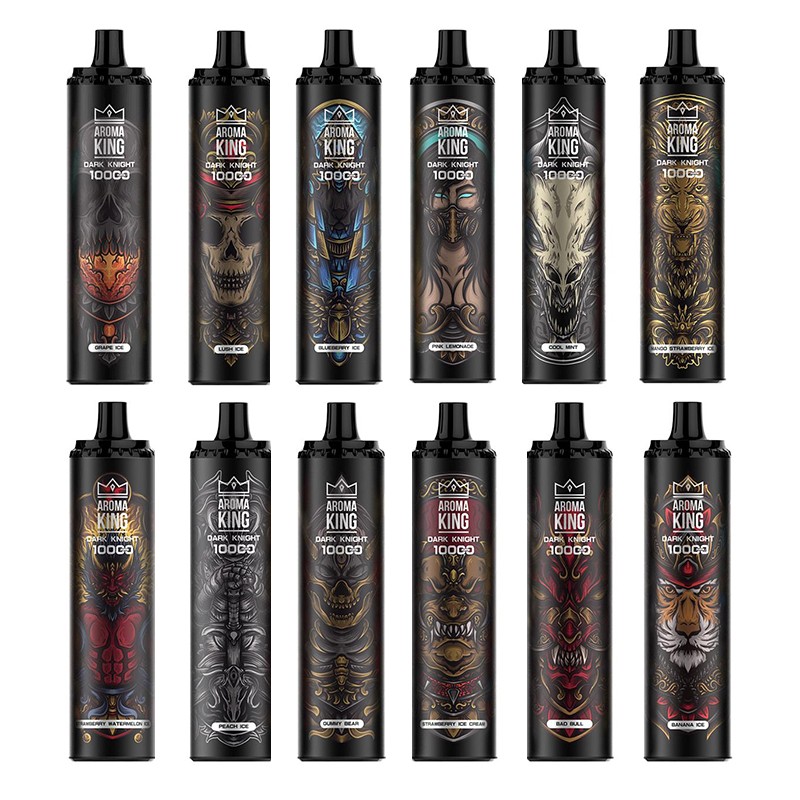 In terms of overall creative design, Dark Knight can be said to be full of visual impact. The black shell is matched with the dark anime pattern, it can be said that each model can become a unique one. The mouthpiece part adopts a relatively narrow design, so there will be no choking in the throat when you inhale.
A 650mAh battery is installed inside. Of course, 10,000 ports must require continuous power, so this device adopts a rechargeable form. This also means that when the dark knight runs out of power, it can be quickly charged through the charging interface. The pod is pre-filled with 20ml of e-liquid capacity. Of course, this part of the e-liquid cannot be refilled. So when the life of the coil is exhausted, or the e-liquid is exhausted, it can be safely thrown away.
Another thing you need to pay attention to is that this is a nicotine free vape with a 0mg nicotine capacity. If you are not particularly cold about nicotine or want to try it, then you must not miss this one. Disposable is activated by suction, with no redundant button operation.
In terms of taste, we provide you with flavours like Lush Ice, Pink Lemonade, Gummy Bear, Peach Ice, Strawberry Ice Cream, etc. that are blended with fruits, ice, drinks and candies. There are 12 flavours for you to choose from, and I believe there is always the one you like.
If you just need a large puff of disposable cigarettes, then you might as well try Aroma King Dark Knight. As a long-term experience in the production and manufacture of electronic cigarettes, you will return with surprises and gains.
In our best e cig uk, there are also many new products that are not available in other stores. You can browse as much as you want, and I believe you will gain something.
Hot sale products in uk:
t-air subtank
caliburn a3 kit