Eleaf, a name synonymous with innovation and style in the vaping world, has unveiled its latest masterpiece – the Eleaf iStick i75 Kit. With its sleek leather exterior and cutting-edge features, this kit is designed to provide a luxurious and comfortable vaping experience like no other. In this article, we'll delve into the world of the Eleaf iStick i75 Kit, exploring its components, power, customization options, and the rich cloud of flavor it brings to your vaping sessions.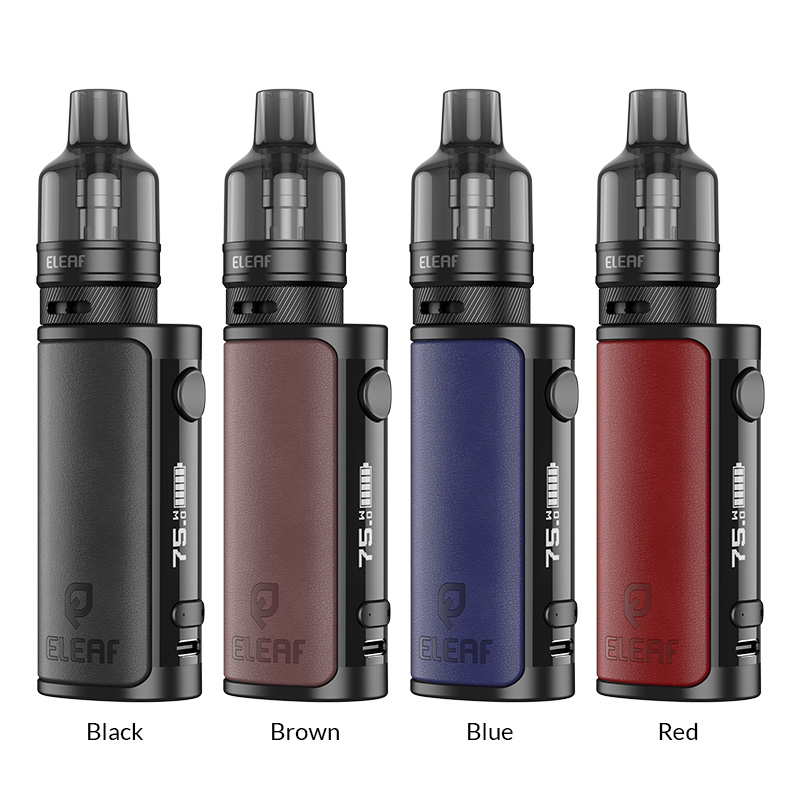 One glance at the Eleaf iStick i75 vape, and you'll be captivated by its stylish leather exterior. This kit is not just a vaping device; it's a fashion statement. The leather finish not only adds a touch of luxury but also provides a comfortable grip, ensuring that your vaping sessions are as enjoyable as they are fashionable.
The Eleaf iStick i75 Kit is a dynamic combination of the iStick i75 Device and the EP Pod Tank. This harmonious pairing delivers a seamless vaping experience. The EP Pod Tank boasts an impressive 5ml e-liquid capacity, reducing the need for frequent refills, so you can vape more and refill less.
At the heart of the iStick i75 Device lies a robust 3000mAh built-in battery. This powerhouse ensures that you have the endurance you need to vape all day long. With a maximum output of 75W, you can explore a wide range of vaping experiences, from mild to intense, depending on your preferences.
Keeping your iStick i75 Kit powered up is a breeze, thanks to its USB Type-C charging port. This modern charging technology not only ensures a swift recharge but also guarantees the reliability of your device. Say goodbye to long charging times and hello to more time enjoying your favorite e-liquids.
The Eleaf iStick i75 Kit offers a level of personalization that sets it apart from the competition. It provides an optional UI interface that allows you to customize your vaping settings according to your preferences. Whether you prefer variable voltage (VV) or variable wattage (VW) mode, this kit adapts to your needs.
To ensure a consistently satisfying vaping experience, the Eleaf iStick i75 Kit features dual-side airflow control. This innovative design allows you to fine-tune the airflow, giving you control over the density of your vapor and the intensity of your throat hit.
The EP Pod Tank in the iStick i75 Kit is compatible with the EP Series Coil. This coil technology not only produces rich clouds of vapor but also enhances the taste of your e-liquids. Prepare to savor every note and nuance of your favorite flavors with each and every puff.
In conclusion, the Eleaf iStick i75 Kit is a testament to Eleaf's commitment to excellence in the vaping industry. Its combination of style, power, customization, and flavor delivery makes it a standout choice for vapers who demand the best. If you're ready to elevate your vaping experience to new heights, the Eleaf iStick i75 Kit is your ticket to luxury and performance. Don't miss the opportunity to indulge in the world of vaping at its finest. Get the Eleaf iStick i75 Kit today and experience vaping like never before.