In the ever-evolving world of vaping, the Eleaf iStick Amnis 3 Mod emerges as a mini-sized marvel, seamlessly combining form and function to offer vapers an unparalleled experience. With its sleek and streamlined design, this mod exudes minimalist beauty, making it the perfect choice for both beginners taking their first steps into the vaping world and seasoned enthusiasts seeking a reliable backup for their on-the-go adventures.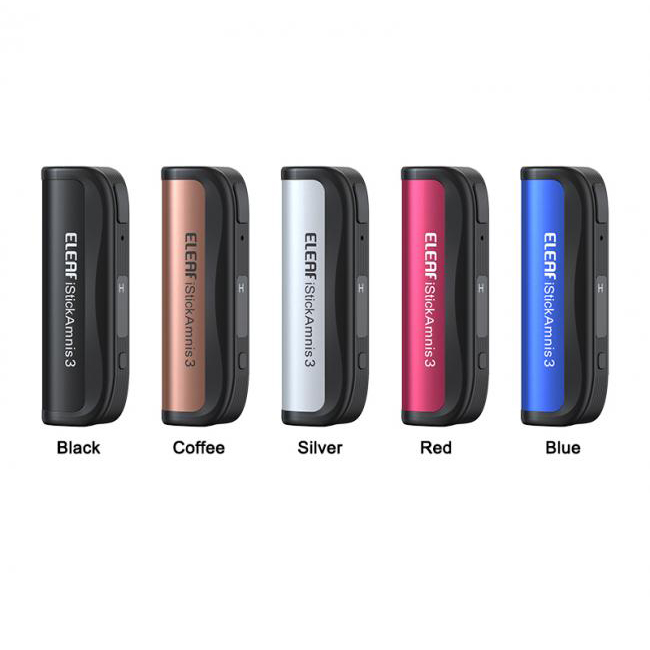 Compact Perfection
The Eleaf iStick Amnis 3 Box Mod retains the compact size that its predecessors are renowned for. Its diminutive dimensions make it incredibly convenient to use and carry, fitting snugly in the palm of your hand or slipping effortlessly into your pocket. Whether you're a vaping novice or a seasoned pro, this mod's user-friendly design ensures that you can pick it up and start vaping without any hassle.
Tailored Vaping Experience
One standout feature of the iStick Amnis 3 Mod by Eleaf is its user-adjustable output voltage. With just a simple click of the adjustment button, you can fine-tune the output voltage to match your preferences, allowing you to enjoy a vaping experience tailored to your liking. This customization option sets it apart, ensuring that every puff is precisely how you want it.
Battery Life at a Glance
No one likes surprises, especially when it comes to their vaping device's battery life. That's where the Eleaf iStick Amnis 3 Mod excels. Equipped with a 3-color LED indicator, it keeps you informed about the remaining battery life, ensuring you're never caught off guard. Say goodbye to those unexpected power shortages mid-vape session.
Versatility Meets Performance
When it comes to compatibility, the Eleaf iStick Amnis 3 Mod does not disappoint. It's designed to work seamlessly with the Eleaf GS Drive Tank, offering a versatile vaping experience. What's more, it's compatible with all Eleaf GS coils, ensuring that you can find the perfect coil to meet your demands, whether you're chasing high-nicotine satisfaction or craving enhanced pure flavors.
Rapid Recharge
Despite its small size, the Eleaf iStick Amnis 3 Mod packs a punch with its impressive 900mAh battery. What's truly remarkable is its USB-C charging capability, which allows the battery to be fully charged in approximately just one hour. With one full charge, this compact mod can support your vaping needs for about two days, making it an ideal companion for those always on the move.
In conclusion, the Eleaf iStick Amnis 3 Mod sets a new standard for mini-sized vape mods. Its sleek design, user-adjustable features, battery life indicator, and compatibility with Eleaf GS coils make it a standout choice for vapers seeking both convenience and performance. So, if you're in the market for a reliable, compact, and versatile vaping device, look no further than the Eleaf iStick Amnis 3 Mod. Elevate your vaping experience with this miniature marvel.